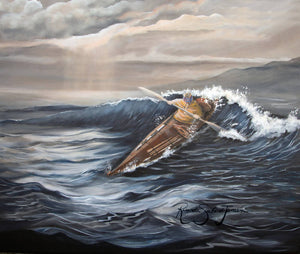 11 x 14 or 16 x 20 paper matte giclee print.  Archival paper and ink, hand signed.  An Aleut hunter takes a wave in his baidarka.  Free shipping to the USA.   An information insert comes with each giclee with painting info, description, and artist bio.  Free shipping in the USA.


I am an original shareholder of the Aleut Corporation and CIRI as a descendant shareholder. I am also a member of Ninilchik Tribe.  Follow me on Facebook @ rhondashelfordjansenart and Instagram @RSJArtist
Many sizes and materials are available on my etsy store www.rhondashelfordjansenart.com or you can email me for more information.