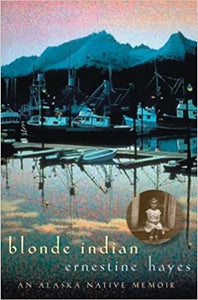 Blonde Indian: An Alaska Native Memoir by Ernestine Haynes
In the spring, the bear returns to the forest, the glacier returns to its source, and the salmon returns to the fresh water where it was spawned. Drawing on the special relationship that the Native people of southeastern Alaska have always had with nature, Blonde Indian is a story about returning.
The author's personal journey, the symbolic stories of contemporary Natives, and the tales and legends that have circulated among the Tlingit people for centuries are all woven together, making Blonde Indianmuch more than the story of one woman's life. Filled with anecdotes, descriptions, and histories that are unique to the Tlingit community, this book is a document of cultural heritage, a tribute to the Alaskan landscape, and a moving testament to how going back—in nature and in life—allows movement forward.
Ernestine Hayes is an assistant professor of English at the University of Alaska Southeast. She received the Fiction Writer's Award from the Anchorage Daily News and the Explorations Alaska Native Writers Award in 2002.