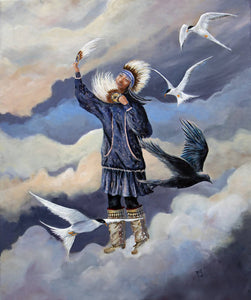 11x14 or 16 x 20 fine art paper, matte, giclee print.  Hand signed by Rhonda.
A girl dances in the clouds in a Kuspuk with traditional fur fans and fur headdress. Terns and a raven join her. 
More sizes and materials are available in my etsy store @ www.rhondashelfordjansenart.com or you can email me. 
I am an original shareholder of the Aleut Corporation and CIRI as a descendant. I am also a member of Ninilchik Tribe.  Follow me on Facebook @ rhondashelfordjansenart and Instagram @RSJArtist