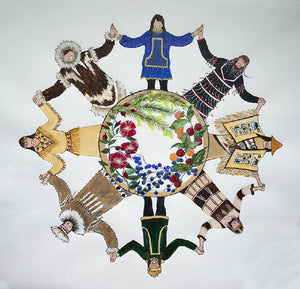 12 x 12 and 20 x 20 matte paper giclee print, hand signed by Rhonda. Girls in full regalia from most Alaska Native Cultures grasp hands while Salmonberries, blueberries, rose hips, and spruce tips fill the center. Free shipping in the USA.   An information insert comes with each giclee with painting info, description, and artist bio.  Free shipping in the USA.
I am an original shareholder of the Aleut Corporation and CIRI as a descendant shareholder and member of Ninilchik Tribe. Follow me on Facebook @ rhondashelfordjansenart and Instagram @RSJArtist
Many sizes and other materials are available on my etsy store www.rhondashelfordjansenart.com or you can email me for more information.